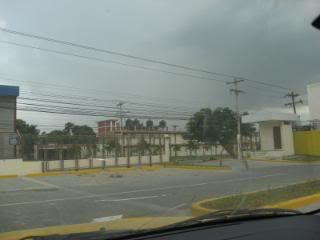 Dark Skies - 10:30am ~San Pedro Sula
We woke up with bright sunny skies this morning with very little wind. Completely normal for here in San Pedro Sula at that time. I packed up the kids and made another run to the grocery store at about 9am. Mainly because I wanted to get out of the house, but also to see how people were acting. Papa seems to have a very non-concerned attitude about the hurricane. Me, I'm not sure what to think. I don't understand the news reports and the national hurricane center doesn't answer my questions either. La Gringa at her
blog
has been giving updates which are helpful.
I went to the grocery store and it was quite full. Not packed, but full. We made our way out of there and drove down to the store Diunsa hunting for D size batteries since the grocery store was all out.
It was still sunny and not much breeze when we went into the store. There was a speck of gray in the distance. Inside Diunsa it was dead. Mostly store personal walking around. But they had candles and batteries that I was able to buy. Diunsa is kind of like a Sears so I'm guessing no one is really thinking about buying a washer or dryer or new tennis shoes today.
When we left it was sprinkling and the skies were all gray with darker clouds behind. Sister got a little panicked worried that the hurricane was coming fast. I assured her that we would be fine and that hurricanes move slow. We come from the land where tornadoes are the fear so I think her response would have been similar to how we would act if there was a tornado warning.
When we pulled into our colonia the rain got heavier.
It is now 3pm and the rain has varied from light to heavy since we got home from the store with some thunder too. I moved the plants inside. Papa thinks I'm being silly because he says the winds shouldn't be bad, but I'm not going to take any chances. They're just little plants anyway so it wasn't hard to move them in.
I'm glad to hear that the strength of the hurricane has diminished, but it's the flooding that is of the most concern.