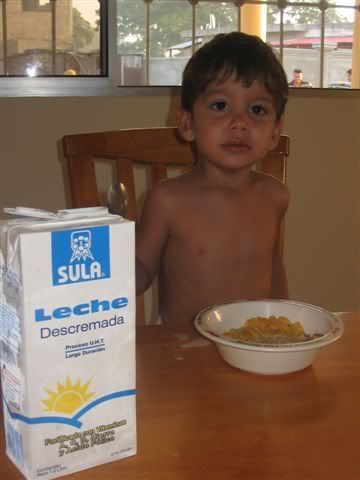 I

mentioned in my last blog about having a hard time finding skim milk here in Honduras. I thought I saw a few gallons at the Paiz grocery store. Sister sprout has a restricted diet and needs to stay away from saturated fats due to a genetic cholesterol issue. We try to make good decisions, but being 9 it is hard. If she is willing to give up high fat milk, I'm going to support that 100% because keeping her from eating other things that are high in fats can be challenging. She loves Cheeto's, for example.




Well, turns out Sister doesn't like the taste of this skim milk...err
leche descremada.
The milk uses something called a UHT Process.
Here's some info I found:

1. UHT is a process where the milk, juice, beer, wine, beverage etc is heated to approx 145 degrees C and helf for some two seconds.
2. The shelf life of a UHT product can be up to 1 year at ambient temperatures.
3. UHT heat treatment can affect the flavor of the product.
I can get sister to drink the milk if we make it into chocolate milk. Fine by me as long as she is drinking milk.

Water Issues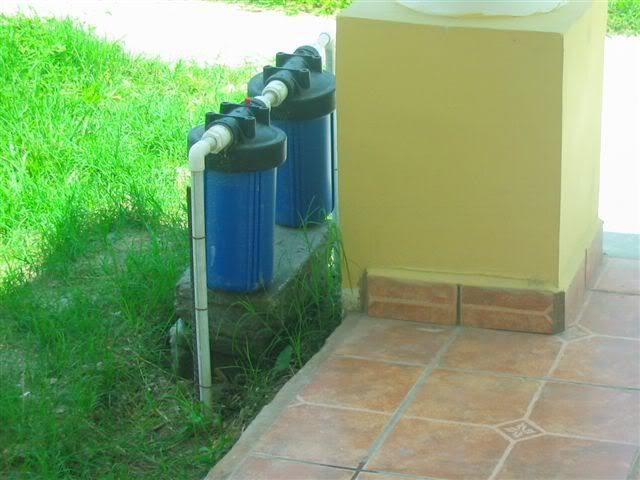 We have well water here in the colonia.
Papa had a water filter system put on the house.
This doesn't make the water drinkable, but helps filter out stuff. He said that there was sediment and such that was coming out of the faucets. He also took off the faucet filter in the kitchen because he said with it on the water ran slow.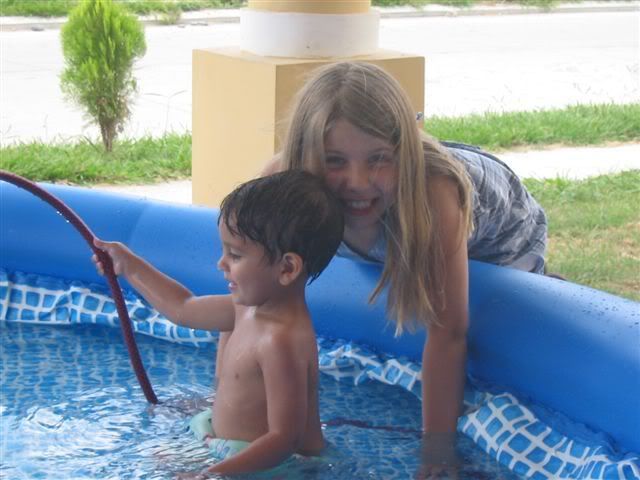 Pool Time

Papa went out and got the kids a pool. Sister is in love with it. Brother is not completely sure since the bottom is kind of slippery. In the photo sister was getting ready to go to her new school so she couldn't go swimming right then.
Once the pool was filled up I got a little concerned about Brother Sprout deciding her wanted to drink the water. He has tried to get a glass to bring to the sink to get a drink already, so he has to unlearn that we don't drink water from the faucet anymore. Instead we got one of these rubbermaid water systems that holds 2 gallons of water and it has a spout on it that fits nicely in the fridge. Brother really likes to get himself drinks of water from it. Anyway - back to the pool. So I was concerned that Brother was going to possibly drink some of the pool water. I turned to the internet and looked up some info. Turns out that you can put regular bleach in kids swimming pools as long as it's diluted properly. This gave me a some peace of mind.
Tap Water
We use tap water diluted with bleach to wash veggies and such. I soak Brother's diapers in a pail of bleach until I can get to the wash. Suddenly I'm starting to use bleach quite a bit here.
I had a little scare yesterday at lunch. I was re-heating some leftover taco meat from dinner the night before and not even thinking about it, I ran a little tap water into the pan and threw it on the stove to warm up. I filled the kids tortillas and served them lunch. It probably wasn't much more than a few tablespoons...but I didn't heat it very much and I didn't realize I had done this until the kid's taco's were 1/2 eaten! I calmly took the kids food and told them I needed to do something. I reheated the taco meat again with more purified water until it was boiling and the water reduced again. Then gave them their food back again. Even mommy needs to unlearn using tap water.
Down Came The Rain
It rained last night very hard. We have an aluminum roof and when the rain is really coming down, it is so loud you can barely talk to each other you have to yell over the racket. Rain at night makes for good sleeping weather but hot and muggy weather during the day Papa tells me. It's 8:30am and I think I can tell it's going to be a muggy day