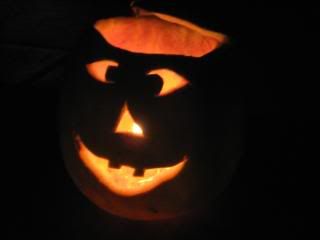 I admit it. I've been homesick the past month. Maybe it's that the "holidays" are here and it just doesn't feel like the holiday spirit yet? At least not the way I know it. I need it to get very chilly, turn the heat on in the house and cuddle up under heavy blankets at night.
The stores have all been decked out with Christmas gear already. There were only a few Halloweeny things out at stores. I did get a bit nostalgic driving by a Hallmark store though that was spookerific. Fake cobwebs and big black spiders and ghosts in the front windows. It was awesome. We drove by and I thought to myself that I wanted to go back to drive by again. I don't know why? To feel nostalgic again? he he he
I find myself wanting to pretend I'm in the US. For example, I try to look at something and put a frame around the image. Mostly when at stores or restaurants that remind me of someplace in the US, but I have done it even driving past green fields and rivers. I place myself in the US for a moment to feel what it would feel like there. Lately I try to imagine cold air and the smell of the house with the heat on. Especially the smell of leaves drying on the ground once the trees have given them up for their long winter sleep. MN has great smells. The seasons are clear as a bell and each has it's own unique scent. It's awesome.
I used to think Halloween was silly and evil. I tried to not celebrate it. But then I had kids. And gosh, it's just good fun. I also realize now that without it, a time marker is missing. I feel disorientated. Like I just woke up from an afternoon nap and I'm not sure what time it is.
It was a little discouraging to try to celebrate Halloween for the Sprouts. Sister was getting a lot of flack at school about it. Her friends don't "believe" in Halloween and think witches will come to get us if we do celebrate. I said *boo* and decided that since Sister wouldn't be able to go out trick or treating we would bring Halloween to Honduras. Well, at least to Sister's classroom. I made a trip to the big City Mall to the K-andy Land store and bought some candy corns and chocolate foil wrapped eyeballs. We also picked up some caramels from the grocery. Placed some of each candy in little plastic bags to keep them fresh and then into paper Halloween treat bags that I found at the grocery store. It was a big hit with the kids and I guess some decided they like Halloween "a little".
Pumpkins grow in Honduras, but I don't think many farmers plant and harvest them only for Halloween. We heard about stores having some in, but they proved to be elusive. No luck with pumpkins. But! If you get lemons, you have to make lemonade - right? So we carved watermelons! It worked out great! I'd do it again. And we don't mind eating the insides.
We went out for pizza for dinner to celebrate and had a very happy time. Came home and played around the candlelit watermelon jack-o-laterns for a few minutes and called it a night. Here is a
slideshow
: