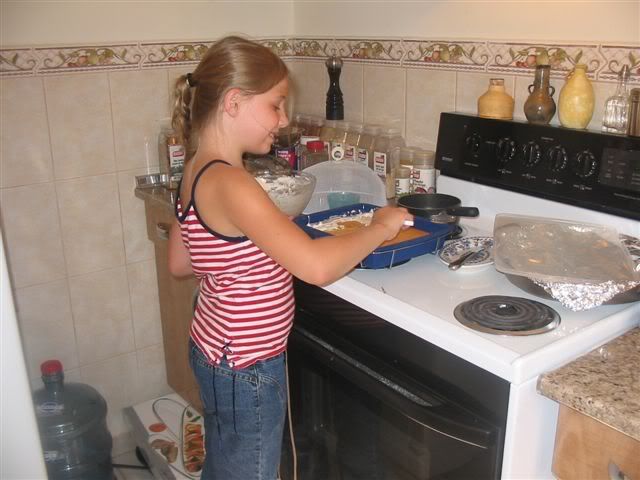 Sister had fun helping make everything. She dressed in her American theme clothes. This girl sure loves her homeland now! She also loves to help with the cooking now...when she is in the mood, that is.
This picture also shows our electric stove. Papa bought it used and it has a few paint touch-up spots, but it works great. I am still getting used to cooking with electric. I don't like it as much as cooking with gas. To hook up a gas stove we would have to buy tanks of fuel that would be stored in the cupboard to the left of the stove. There is no way that the tank could be stored outside and "piped" in. It just wouldn't have worked. Electricity is pretty expensive in Honduras. Maybe because so many people "steal" electricity or don't pay their bills it jacks up the price for us honest people who don't want to steal. Now Papa is concerned that the stove takes up too much electricity. Will it stay or will it go???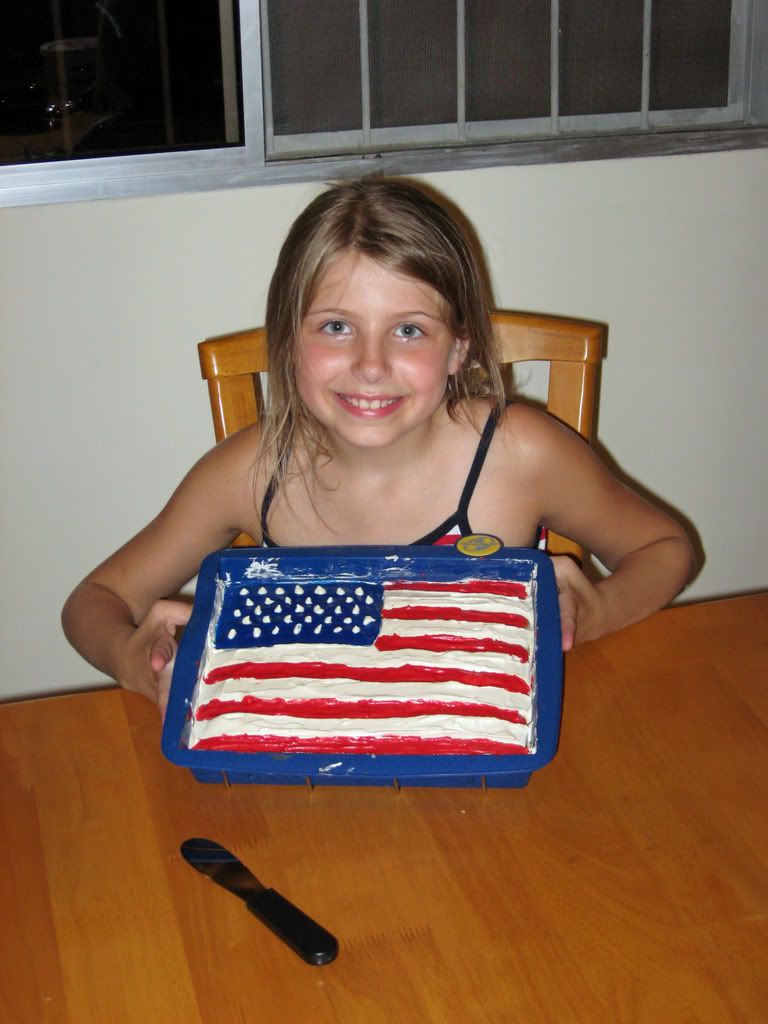 Sister was very proud of the cake and her and Brother have enjoyed eating it the past few days. Maybe it's because of the humidity here, but the cake still tastes great and not dry at all!
We fired up the grill after Papa was done with work for the day. It was about the time of night when it's still light out, but the sun has stated to set. The neighborhood starts to come alive. Kids go out into the street to play and parents are outside enjoying the valley breezes, work in their yards or to play with the kids. We met two of the kids who live across the street. One little girl who is 12 and speaks English and she has a brother who is 8. They were outside running races up and down the street. We tried to get Sister to talk a little or get out there and play, but she was being shy. I hope one day she will feel more comfortable putting herself out there. I know she was interested in the kids, because she was concerned with what she was doing and how she looked. It's not like she wanted to be inside hiding, she just was standing on the sidelines watching the kids and the kids were watching her too. Hopefully one day they will all be playing together. Papa thought maybe sometime we could have a neighborhood " block party" so it would give all the kids a chance to get to know each other and the adults too. Papa spent a long time chatting with the neighbors which is great that we are getting to know our neighbors, but hard because I don't speak Spanish and after a quick greeting, there is not much else I can say. I'm working on that though...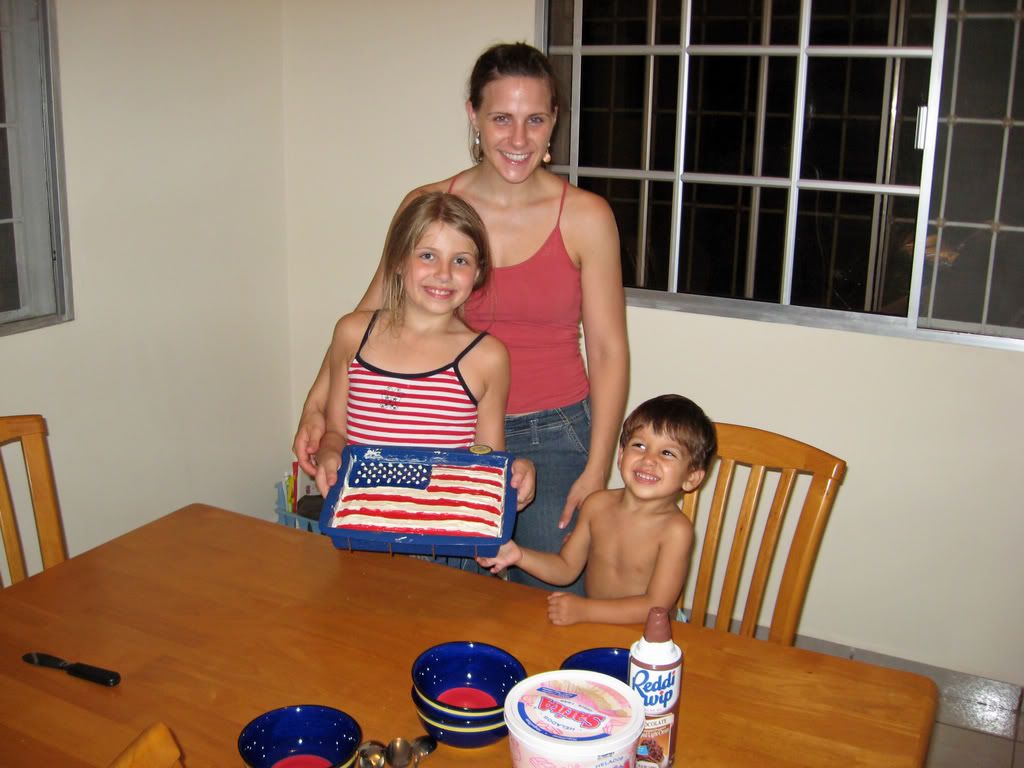 Once the sun set, the food was finishing up on the grill and by then it was dark outside. The sun sets around 7pm here. In New York it would have been 10pm and they broadcast their fireworks on one of our cable channels. Beautiful fireworks set to music too. So we watched and sang along. Then I noticed up in the sky, that there were fireworks being set off downtown somewhere and we could see the fireworks from our front yard. Probably from one of the Americanized hotels. We all ran out and watched the little fireworks they were setting off. There was not a "grand finale" or anything, and the fireworks were on the lame side compared to what you see in the states but we whooped and hollered just the same.
After dinner we had cake and ice cream and watched a movie. It was as good as any 4th of July we could have had in the states.