A news crew taking residents' comments
There have been a few things going on around our colonia. On one of the first nights I was here, late at night a truck was driving around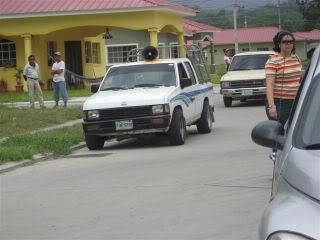 with a megaphone attached to the top and they were driving around letting everyone know that the water supply was at risk because the colonia's well water supply was about to be hooked up to the new colonia being built next to ours.
Maybe the worry is that the water supply will run low and then we will be rationed or run out at times? Or maybe that the water pressure would go way down and we would have to take showers under a slow trickle.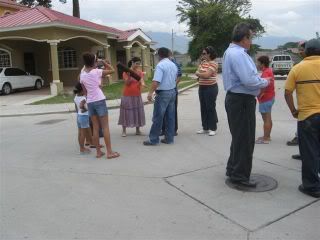 I'm not sure exactly, but lots of people were riled up about it. So yesterday they staged a protest of sorts as they were digging the hook-up lines. I think they might have even hooked things up yesterday. At least that is what they said they were going to do and that is why they wanted as many people out there protesting.
Mainly out of curiosity we walked up to see what was going on. I was a bit concerned because if it's going to create problems for our colonia's water supply, I wouldn't like to loose any water pressure. Can't another well be dug for the other colonia? As a side note - the woman in the striped shirt is our neighbor across the street and is a main person on the community board. If the water line was hooked up yesterday, I didn't notice any change in the water pressure, but there are no homes built there yet so there's no one to draw on "our" water supply.
We stopped and watched things for a little while. People running around and official people walking here and there and talking, talking and lots of people just standing there watching the commotion. I couldn't understand what the person was saying on the megaphone blaring from the truck. So we decided to walk to the park the next block over and play for a little bit. Here is what the park looks like:
Here is a shot of the park from the street.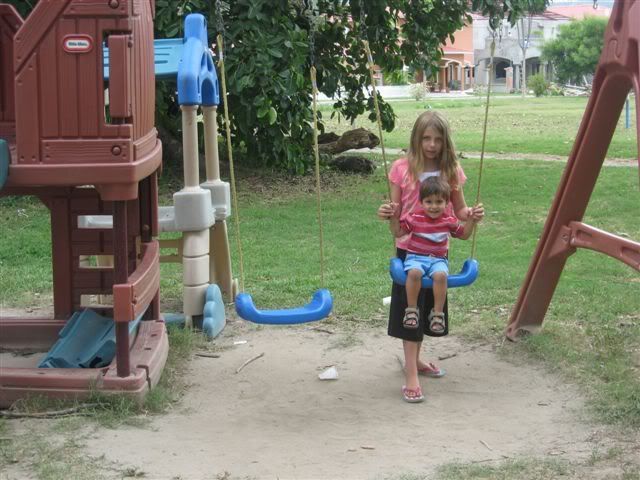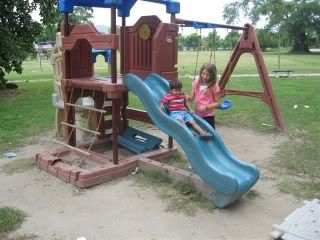 The playground equiptment is old Little Tykes and old metal swings, monkey bars & a slide (not shown in this photo). Most of it wouldn't be found anywhere in a public park in the states now.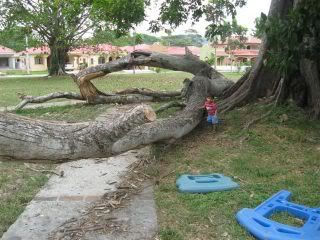 This downed tree section is actually the best playground equipment. The kids love to climb on this and if you sit on it and hold on someone can pull on the end and the whole thing moves up and down like a teeter-toter.
Sticks are also fun things to play with.