I've heard that life in Honduras is like going back in time. I've seen it in little ways, such as the way people run businesses (door to door vendors, etc). I will pass a horse and cart multiple times driving down one road. I have also been walking down a street and can hear people pecking away on typewriters and on that same street there are internet cafes and bootleg CD's and DVD's for sale. Life here seems to be a mix of new and old. There is quite a bit of technology here, but yet it's common to lose power and/or water on any given day for who knows what reason without warning. The mail system is pretty much non-existent. Our bills reach us by a delivery person who brings it right to our house. How'd you like life with no junk mail? Not much of that here.
The other weekend we took a trip to a smaller town called San Buenaventura. A town about an hour from us here in San Pedro Sula. I really like it there. It's at a higher elevation so the weather is a bit cooler and the flora is spectacular. Papa's grandma lives there along with some aunts and uncles. They own some land where they raise dairy cows. At 2pm it is the 2nd milking time of the day so we took a field trip and walked from the house to where they were milking the cows. My battery on my camera was dieing and I'm afraid I didn't get very good shots but I'll share with you what I got anyway. I'd turn on the camera and take a photo as fast as I could before it would shut off.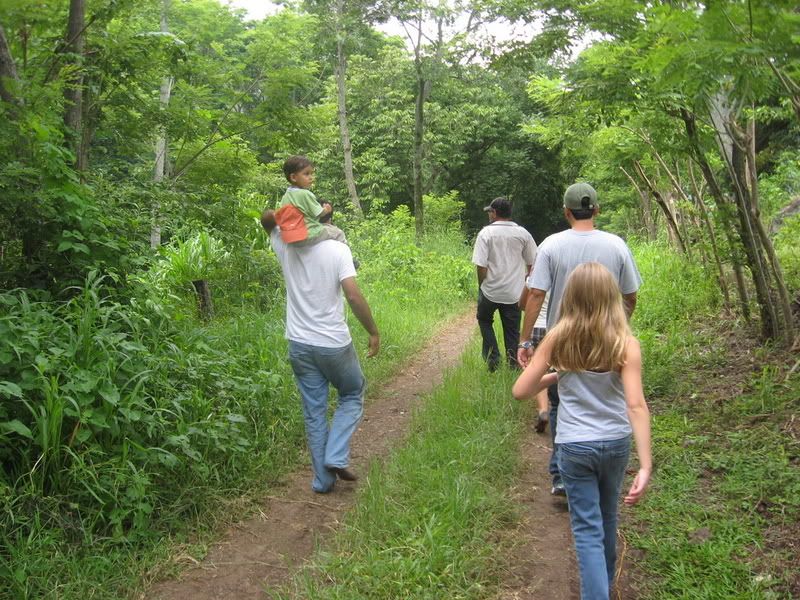 First we took off on foot. It's about a ten minute walk from the house down a road and through grazing pastures. Watch out for the cow poo! Brother road on the shoulders of another family friend, Victor who owns some land next to Papa's uncle's. He has a masters in finance but for now works the family ranch and one day all the land he works will be his.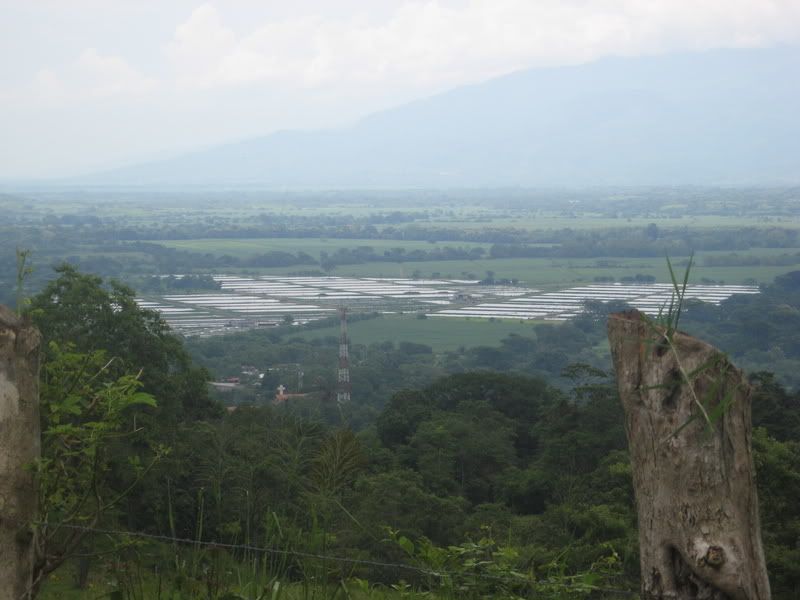 Walking down the road it overlooks a tilapia fish farm. Tilapia is a favorite fish here and a large export too. There is a lake about a 1/2 hour away that is chock full of fish and lots and lots of tilapia. As far as I know, there is no fishing restrictions on the lake and it is year round fishing. One interesting thing is that here in Honduras they take the fish heads and guts and turn it into bio-fuel. You can run your car on fish heads!! Read an article about it
here
.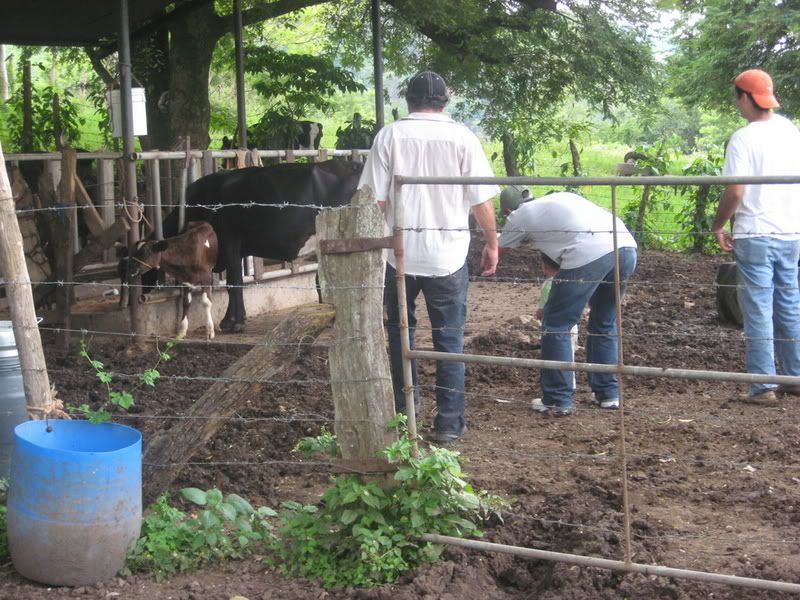 Here we came to where they milk the cows. Yes, there is lots and lots of cow dung all over and it has a very fragrant farm smell. We got used to it quickly but at first Sister wasn't sure how to walk in the dirt/poo all over. Soon she was in it like everyone else. They use a small wooden T shaped stool to sit on and draw the milk into a bucket then pour it through a strainer and into a holding container. You can see the filter and container on the far left hiding behind the blue bucket. They fill those containers up and bring them to a local holding place where all local dairy ranchers keep their milk stored then sold. I'm told the milk is mostly used for cheeses. Papa's uncle is the one who manages all this for the local ranchers in town. The family also brings their cows to the fair and recently 2 of Papa's uncle's cows won some prises. He is trying to increase his count of Jersey cows. They give the best and most abundant milk.
I felt like I was back on a farm from 50 years ago. At least by the way they did things. Sister loved it and can't wait to go back but she says she has to bring boots with next time. Not her nice white tennis shoes.
The way they do things here is the mother cows keep their calves with them for the better part of a year. When it's time to milk, they tie up the mama cow's hind legs, let the calf nurse for a minute or two to get the milk flow going and then they take the calf off and tie it up next to their mama to eat some yummy cow feed. With both happily eating they wipe the mama's teats off and begin to milk the cows. No machines, no rubber gloves, no disinfectant sprays or lotions. Just old fashioned hand milking.