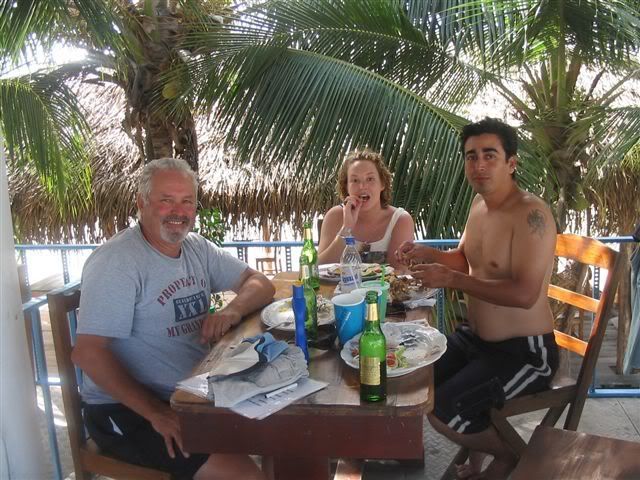 We officially hosted out first guests in Honduras. Can you believe it? My friend Jen and her co-worker/friend, Kevin arrived in San Pedro Sula 5 days after me and the kids got here. As soon as that was, I enjoyed having the company from "home". They stayed for a few nights and then were off to
Tela
for a few days and then the island of
Utila
for about a week of diving.
The top photos are from a restaurant we took them to in
Puerto Cortes
that is right on the beach and also has a pool where the kids enjoyed swimming. Jen and Kevin are teachers in Nevada so with the summers off they took the opportunity to do some traveling. Jen spoke pretty much no spanish when she arrived, and by the time she left she was giving it a good try with the words she picked up along the way. Way to go Jen!
Kevin spoke spanish enough to get them through the tough times and getting them from here to there. I wouldn't recommend traveling to Honduras unless you know a fair to good amount of spanish or else I would think it could be quite the headache otherwise and possibly a little dangerous.
After spending a little time in Honduras, they took a 12 hour bus ride through Nicaragua to Costa Rica and had a few weeks of adventures there. Then they were back to San Pedro Sula to visit with us a little more. We debated on if they wanted to go to Belize or Copan with me and the kids. Since I had not been to see the property yet that Papa and I own there, and explaining what the town was all about, we decided we would go spend a few days in Copan. The only snafu was that Papa could drive us there, but couldn't stay since he had to work early Monday morning.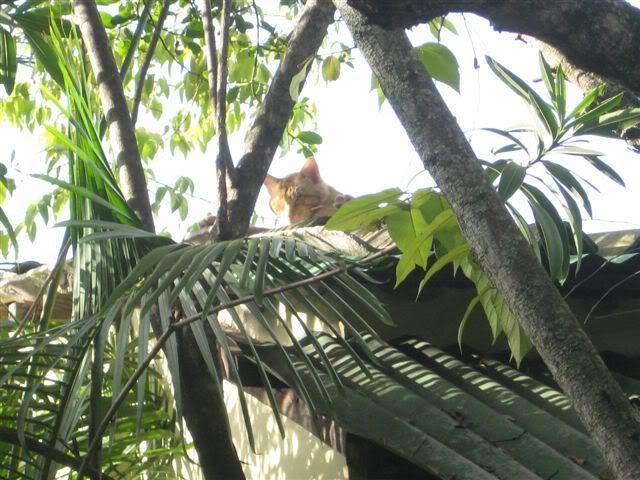 We spent the next 4 days being like this little kitty up on the roof chilling out. Spending time relaxing. Doing a little sight seeing and walking around town, talking to people and eating at some of the many restaurants there. There are many types of restaurants where you can find many good things to eat if you want to get away from typical Honduran food as well as many good
tipico
food as well. Jen was afraid of eating anything with strange meats or anything dairy for some reason. This is probably one reason she didn't get sick at all while on her month long vacation.
I love Copan. I really do. I don't know if it will ultimately end up being the place we build a house. Papa's business is doing too good in San Pedro Sula, which is the industrial capital of Honduras. But I daydream about living there one day. The days can be hot, don't get me wrong. But the nights are cool and AC really isn't needed. It can sometimes even be cold enough for sweaters. I actually wore makeup while there. At home in SPS, I have given up even attempting to put anything on other than sunscreen.
I was very nervous at first being in Copan without Papa. He's my security here in Honduras. I think I'm a fairly strong, independent person who can handle her own, but with the language barrier I start to feel pretty vulnerable. But I totally shocked myself because I actually know some spanish! When I was forced suddenly I had all these things to say. I could hardly believe it! It really was a boost in my confidence as far as my ability to learn the language.
Here are some photos from our getaway in Copan: